Grischa Ludwig repräsentiert Westernreitsport/Reining beim Ball des Sports.
(Ramona Billing)


Eine großartige Sache für unseren Sport: anläßlich des 50-jährigen Jubiläums [...]
---
3. 2. 20 - WB - 50. "Ball des Sports": Grischa Ludwig zeigt, wie man auch auf engem Raum für ein Spektakel sorgen kann! mehr...
NRHA Bayern-Mitte: Das ist die Ausschreibung für die Regio-Maturity vom 5. – 10. Mai in Kreuth mehr...
---
2. 2. 20 - WRWS/AQHA - Der erste AQHA-International-Newsletter 2020.


- 2020 First-Quarter International Newsletter.

Improved Business Processes
AQHA is working to improve the level of service that's provided to our members by changing the way the Association does business. This has taken shape several ways, specifically through the reorganization of the Member Experience Department, implementation of an international language phone line option, and the Contact Us options and Online Help Center found on AQHA.com.
Zootechnical Certificates for equine passports can be requested at: Diese E-Mail-Adresse ist vor Spambots geschützt! Zur Anzeige muss JavaScript eingeschaltet sein!
AQHA Form Translation
You can find AQHA members in more than 100 countries around the world. For that reason, it's necessary that key forms are translated to languages beyond English and Spanish. The international department is working to build a multilingual resource library, which will include a variety of forms translated to German, Italian, Portuguese and French.
Members can now find the AQHA Transfer Report translated into German, Italian, Portuguese and French. Find the forms specific to the language you're interested in here. Keep an eye out for additional forms translated to these core languages in the future.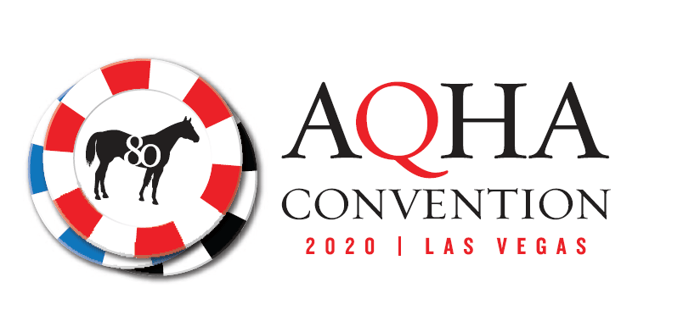 Are you interested in increasing your involvement within your American Quarter Horse community, learning more about how AQHA rules are made or celebrating your passion for AQHA with other members from around the world? We have just the place for you – join us at the 2020 AQHA Convention March 13-16 at the South Point Hotel in Las Vegas.
AQHA is a member-governed organization that strives to abide by the desires of its members. Each spring, AQHA holds a convention to review AQHA rules and policies, member-submitted rule changes, new AQHA director appointments, AQHA Executive Committee elections and more. AQHA wants to hear your recommendations to help AQHA membership, programs and services reach their fullest potential.
An additional benefit of attending convention is celebrating the induction of the American Quarter Horse Hall of Fame Class of 2020 during the Hall of Fame Banquet. This event honors inductees to the Hall of Fame and their stories about how they've contributed to the longevity of the Association. Be sure to also purchase your tickets for the Fabulous Foundation Party for a night of fun and activities.
Register for the 2020 AQHA Convention by January 31 to avoid late fees.
AQHA Professional Horsemen Awards

Being named an AQHA Professional Horseman of the Year is one of the top awards in the equine industry. Each year, AQHA Professional Horsemen and -women are nominated for these honors and are selected based on their contributions to the industry. AQHA Professional Horsemen are held to the highest standards of personal and professional integrity.
This year we have four international Pro Horsemen on the ballot for AQHA Most Valuable Professional. The winners of these awards will be recognized at the AQHA Awards Celebration at the National Cowboy & Western Heritage Museum in Oklahoma City, coinciding with the Lucas Oil AQHA World Championship Show in November.
Voting is now underway and will be open through 8 pm CST January 31, 2020, on the AQHA.com Member Services Page for the Nutrena Don Burt Professional Horsemen of the Year, Nutrena Professional Horsewoman of the Year, and Most Valuable Professional for 2019. All current members of the AQHA Association of Professional Horsemen are eligible to vote. Winners will be announced on March 14, 2020 during the General Membership Meeting at the AQHA Convention in Las Vegas. Be sure to cast your vote soon! If you have difficulty casting your vote please contact AQHA Manager of Professional Horsemen and Team Wrangler Karen McCuistion at Diese E-Mail-Adresse ist vor Spambots geschützt! Zur Anzeige muss JavaScript eingeschaltet sein!.
Upcoming Membership Summits
An AQHA membership summit is conducted every other year for each region to review international department-specific and general AQHA news, task force updates, rule changes, funding structures, educational seminars and any other information that's pertinent to the region. Topics of discussion also include short- and long-term goals for the AQHA International Department, as well as business plan goals for the affiliate organizations.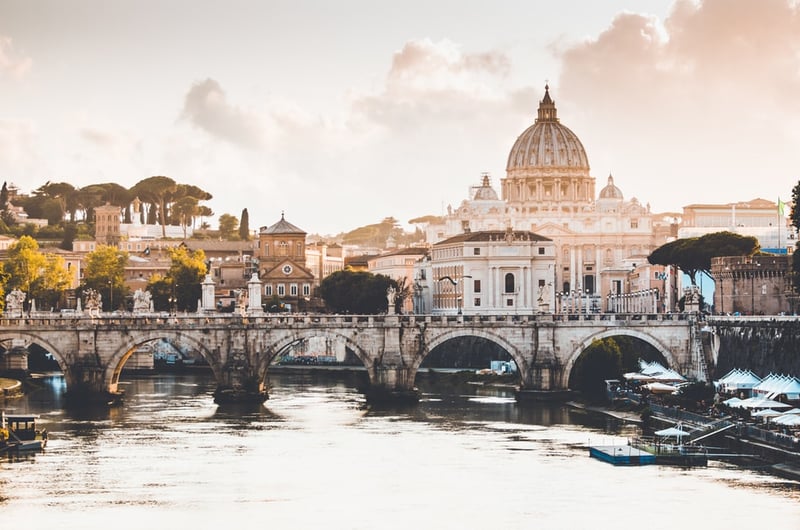 AQHA European Summit
January 30 - February 1, 2020
Rome, Italy
AQHA members in the European membership region will be #Unitedbythehorse for the 2020 AQHA European Summit.
AQHA, in partnership with the Associazione Italiana Quarter Horse, is excited to host a business summit and show management day. The show management day will be led by AQHA Senior Director of Judges Patti Carter and AQHA Manager of Competitions Melynda Ackley.
AQHA looks forward to connecting and learning more about members and their AQHA interests in the European region.
2020 AQHA Canadian Summit
February 14 - 16, 2020
Saskatoon, Saskatchewan
2020 brings us a new year, and the first membership region summit to occur in Canada.
All current AQHA members are invited to attend. The AQHA Canadian Summit will be held in conjunction with the Canadian Quarter Horse Association annual general meeting, as well as the Saskatchewan Equine Expo.
AQHA, in partnership with the Canadian Quarter Horse Association, will provide judge education on February 16 led by AQHA judge John Pipkin.
International Best Remuda 2019 Winner
Estancias Graciarena
Every year since 1992, AQHA has honored the contributions ranch horses have made to the heritage of the American Quarter Horse by presenting the AQHA Best Remuda Award to a ranch that raises outstanding ranch horses. In 2018, AQHA added the AQHA International Best Remuda Award to recognize an outstanding international ranch remuda comprised of registered American Quarter Horses.
We're excited to have Argentina's Estancias Graciarena as the 2019 AQHA International Best Remuda Award winner. Andres de Lazzer's Estancias Graciarena of Olavarria, Argentina, has for 30 years cultivated American Quarter Horses, with a special focus on the bloodlines produced by King Ranch. De Lazzer operates Estancias Graciarena with his wife, Mariquel, and daughters, Sofi and Connie. Read more about Estancias Graciarena.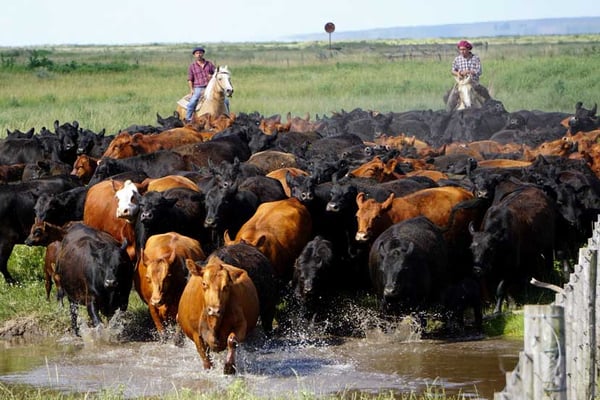 To learn more about this award and past Best Remuda Award-winning ranches click here. Photo courtesy of Estancias Graciarena.
World Show Wrap Up
International Hospitality at the 2019 Lucas Oil AQHA World Championship Show
AQHA International was excited to host the AQHA International Hospitality Booth for the second year during the 2019 Lucas Oil AQHA World Championship Show in November in Oklahoma City. The international team enjoyed getting to know members from around the world and educating all who stopped by about international programs. An added perk of the 2019 booth included the addition of Member Services to process AQHA paperwork for our international customers. While those visiting the booth found it to be a place to relax, they could also have their registration-related needs tended to.
In addition, members had the opportunity to share their opinions, suggestions and recommendations to improve and build upon the international experience during the Lucas Oil World. AQHA International took note of these recommendations and looks forward to developing ways to enhance the international member and exhibitor experience during this championship event in the coming years.
First Member from Japan to Exhibit at the World Show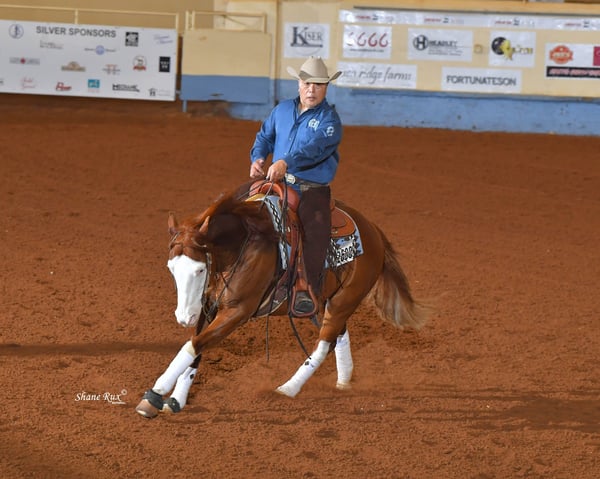 The 2019 Lucas Oil AQHA World Championship Show brought many firsts, but AQHA International was particularly excited about a significant first for the Japan Quarter Horse Association. Yasuo Hara and Gunnadeous, owned by Mikiko Hara, showed in the amateur reining – the first exhibitor ever to compete at the Lucas Oil World from Japan! Mikiko, Yasuo's wife, was proud to share this experience by allowing Yasuo to ride her American Quarter Horse for this very special experience.
Yasuo and Mikiko look forward to growing the sport in Japan with the Japan Quarter Horse Association!
How to Reach AQHA International
Email: Diese E-Mail-Adresse ist vor Spambots geschützt! Zur Anzeige muss JavaScript eingeschaltet sein!
Phone: +1-806-376-4811
Fax: +1-806-349-6408
Facebook: facebook.com/AQHA.International
Dr. Anna Morrison – Chief International Officer
Diese E-Mail-Adresse ist vor Spambots geschützt! Zur Anzeige muss JavaScript eingeschaltet sein!
+1-806-378-4333 (office)
+1-970-420-4124 (mobile/WhatsApp)
Charlie Sokolov – Executive Secretary to Chief International Officer
Diese E-Mail-Adresse ist vor Spambots geschützt! Zur Anzeige muss JavaScript eingeschaltet sein!
+1-806-378-4347 (office)
Sierra Kane – Director of International Activities
Diese E-Mail-Adresse ist vor Spambots geschützt! Zur Anzeige muss JavaScript eingeschaltet sein!
+1-806-378-4366 (office)
+1-801-915-8215 (mobile/WhatsApp)
Ashley Baller – Manager of Multilingual Resources and Communication
Diese E-Mail-Adresse ist vor Spambots geschützt! Zur Anzeige muss JavaScript eingeschaltet sein!
+1-806-378-4337 (office)
---
1. 2. 20 - WRWS/DQHA - Die DQHA unterzeichnet das "Statement of Intent".
Wie wir Euch schon in dem Artikel "Vor und nach Brüssel"' mitgeteilt haben, hat sich gestern Abend das Präsidium dafür entschieden, das "Statement of Intent" zu unterzeichnen. Wie die weiteren Schritte sind, werden wir in Kürze mitteilen. Das...
Lesen...
"Vor und nach "Brüssel" – Bestandsaufnahme und Update.

In Europa muss jeder Zuchtverband seine Zulassung alle zehn Jahre neu beantragen. Die Einhaltung der gesetzlichen Vorgaben soll so sichergestellt werden. Durch zwischenzeitliche Kontrollen wird die Arbeit behördlich überwacht. Seit 2013 konnte…
Lesen...
Jetzt online: Die High-Point-Wertung der Turniersaison 2019!


Jedes Jahr zeichnet die DQHA die besten Pferde und Reiter der zurückliegenden Saison mit begehrten Titeln aus: Jetzt stehen auch die "DQHA Year End High Point Champions" fest! Die Champions erzielten ihre Punkte in den unterschiedlichen Disziplinen…
Lesen...
Termin & Tagesordnung der Mitgliederversammlung der DQHA-Regionalgruppe Thüringen/Sachsen 2020.

Informationen gibt es hier.
Lesen...
DQHA-Team-Cup 2020: Die Ausschreibung ist da!


Es sind immer wieder ereignisreiche, spannende und bunte (Reiter-) Tage, die die Teams beim "DQHA Team-Cup erwarten". Jugendliche und Amateure aus ganz Deutschland messen sich im sportlichen Wettkampf und suchen jedes Jahr aufs Neue das beste…
Lesen...
Neu im DQHA-Formularservice: Deutscher "Transfer-Report".
Transfer-Report jetzt auch auf deutsch einreichbar!
Lesen...
---
1. 2. 20 - WB - "Dexit": Verlässt die DQHA am 1. Februar 2020 nach 40 Jahren die AQHA? mehr...
DQHA-High-Point-Wertung: DQHA veröffentlicht fehlerhafte High-Point-Wertung – ganz ohne AQHA-Punkte mehr...
Country-Music: Rob Georg erhält den "Warlock Asylum International News 2020 Artist of the Year Award" mehr...
EU-Recht: AQHA Österreich unterstützt beim Import von Quarter Horses und Zuchtmaterial mehr...
Reining: NRHA USA startet die neue Podcast-Reihe "In Our Tracks" mehr...
AQHA: Neue Videoreihe "Pro Horsemen Competitive Edge" zu Horsemanship, Showmanship und Hunt Seat Equitation online mehr...
Tierseuchenkasse: Heute ist der Stichtag für die Meldung! mehr...
Reining: Das sind die Turniertermine 2020 der NRHA Baden-Württemberg und NRHA Allgäu mehr...
EWU Bremen/Niedersachsen: Das ist die Ausschreibung für das A/Q-Turnier Dönsel vom 10. – 13. April mehr...

---
1. 2. 20 - WRWS/AQHA -
- Save the Date! Termine 2020.
The American Quarter Horse Association has an exciting line-up of events planned for 2020. Mark your calendars today with the tentative dates.
May 30 – Heritage Place Futurity and Derby, Debbie Schauf Memorial Championship (formerly the Remington Park Invitational Championship) at Remington Park in Oklahoma City

July 24-25 – Texas Quarter Horse Association Yearling Sale in San Antonio

September 4-7 – Ruidoso Select Yearling Sale, All American Derby and Futurity, All American Gold Cup at Ruidoso Downs in Ruidoso, New Mexico

September 25-26 – Heritage Place Yearling Sale in Oklahoma City

October 3-4 – Los Alamitos Equine Sale at Los Alamitos Race Course in Cypress, California

October 24 – Bank of America Racing Challenge Championships and AQHA Racing Conference at The Downs at Albuquerque in Albuquerque, New Mexico

December 12-13 – Champion of Champions and Los Alamitos Two Million Futurity at Los Alamitos Race Course in Cypress, California
2020 AQHA Regional Championships
AQHA Ranching Heritage Challenges
*Features AQHA added money.
American Quarter Horse Youth Association
American Quarter Horse Hall of Fame & Museum Events and Exhibits
AQHA Member Services on Location
While you enjoy some of your favorite equine events, take advantage of the many AQHA services that can be handled for you by the AQHA Member Experience Team at some of those locations. Visit www.aqha.com/member-services-on-location for more details.
For more information on AQHA events in 2020, visit www.aqha.com.
AQHA News and information is a service of the American Quarter Horse Association. For more news and information, follow @AQHAnews on Twitter and visit www.aqha.com/news.
---
31. 1. 20 - WRWS/NRHA -
- New Podcast From NRHA – In Our Tracks.
Oklahoma –
The National Reining Horse Association (NRHA) is proud to announce the launch of its new podcast, In Our Tracks. The new-media offering aims to honor the history of reining, discuss current events and trends, and look ahead at the opportunities this sport has in its future.
In Our Tracks will present interviews with the legacy-makers, movers, and shakers from the reining industry as well as grassroots competitors and weekend warriors to offer insights from the full spectrum of the reining community.
In each monthly episode, listeners will meet NRHA Professionals, members of the NRHA Hall of Fame, those who serve on the NRHA Executive Committee and Board, plus hear about programs from NRHA staff.
"This is an exciting way to tell the stories of reining and its participants," said Jennifer Paulson, host of In Our Tracks and editorial and marketing consultant for NRHA. "Hearing these horsemen and -women tell their stories in their own words celebrates the sport's legacy in an entertaining, educational manner."
The podcast has launched with the introductory episode as well as an interview with NRHA President Mike Hancock who discusses his history with horses of all kinds and what he sees in the future for NRHA and reining. Look for episodes to come with NRHA Hall-of-Famers Tim and Colleen McQuay, the 2019 NRHA Toyon Ranch Rookie of the Year, National Reining Horse Youth Association (NRHyA) Past President Elizabeth Blaser, and many more.
You can find In Our Tracks on Apple Podcasts, SoundCloud, Spotify, TuneIn, and Pippa, as well as listen to it on nrha.com.
---
30. 1. 20 - WRWS/NRHA -
- NRHA Professionals of the Year Honored for 2019.
Oklahoma –
The National Reining Horse Association (NRHA) strives to recognize excellence amongst its members. The NRHA Professionals of the Year awards are just one avenue for showcasing the accomplishments of reining trainers in the industry. The five awards include NRHA Professional Horseman of the Year, Becky Hanson Horsewoman of the Year, NRHA Non Pro Coach of the Year, NRHA Youth Coach of the Year, and NRHA Up-and-Coming Trainer of the Year.
"The Professionals of the Year awards are very important because we have a lot of people in our industry from around the world who deserve to be honored on a national level and recognized by their peers," said Patrick Flaherty, NRHA Professionals Committee chairman. "These awards aren't just given to anyone; these recipients have worked hard their entire careers, and it's evident to their clients and their peers that they're more than deserving of this recognition."
Each NRHA affiliate is asked to nominate NRHA Professionals for the awards based on their unrelenting work both inside the arena and out. NRHA Professionals then choose the recipients by voting in each category. Winners will receive their awards during the 2020 NRHA Derby at the awards banquet held June xx in Oklahoma City. Here are the 2020 NRHA Professionals of the Year.
Horseman of the Year – Craig Schmersal
Craig Schmersal (© NRHA)A staple in the industry since competing as a youth member, Craig Schmersal hasn't missed the NRHA Futurity finals since 1997. His most recent major win came when he was crowned the 2019 Run for a Million co-champion. The NRHA Four Million Dollar rider not only specializes in training, showing, and selling futurity and derby horses, but also breeds prospects that regularly become champions in the arena. He's trained and shown multiple NRHA Futurity and Derby winners, including winning the 2017 NRHA Futurity on his homegrown mare Face The Attitude. He's earned multiple FEI team and individual medals, and multiple AQHA World Championships. He trains every horse as an individual and finds ways to maximize their strengths while minimizing their weaknesses.
Not only is Schmersal known for his contributions within the arena, but outside of it as well. As an active member of the Judge's Committee, Schmersal is committed to the industry and continually trying to better it for horses and riders alike. He is often seen teaching Secrets of Judging courses to increase education for riders, as well. Along with educating in this way, he's also created training videos to help demonstrate techniques for finished horses and futurity prospects and even covers proper tack tips.
Schmersal also promotes NRHA Million Dollar Sire Pale Face Dunnit (Gunner x Lena Dun It), who he also showed for most of his career in the show pen, further demonstrating his commitment to each aspect of the reining industry, from breeding to showing, at the highest level.
Becky Hanson Horsewoman of the Year – Abby Mixon
Becky Hanson (© NRHA)Abby Mixon, who's based at Winfield Farms in Marietta, Oklahoma, trains reining horses of all ages and coaches riders of all skill levels. As the daughter of NRHA Professional Don Boyd, Mixon grew up in the reining industry, riding alongside her father. She began showing at age 8, earning more than 330 points, multiple paychecks, and several NRHA top 10 titles as a youth. In 2005, Mixon took her NRHA Professional card, launching her training career under the tutelage of NRHA Four Million Dollar Rider Craig Schmersal. She also worked for NRHA Professional Duane Hicks before moving to Winfield Farms with her husband, Jeff, in 2008.
To date, she's earned more than $391,480 in NRHA Lifetime Earnings and has competed and been a finalist at major events including the NRHA Futurity and NRHA Derby. In 2019, she brought three horses to the NRHA Futurity, making the NRHA Level 4 Open Semifinals on all three and advancing two of them to the NRHA Level 3 Open Futurity Finals.
As a top-level female professional, Mixon strives to create more opportunities for women with a desire to compete in the reining industry and promote the sport in any way she can.
Non-Pro Coach of the Year – Jared Leclair
Jared LeclairJared Leclair began working for Steve Simon at Quarter Mount Farm, home of NRHA Million Dollar Sire Custom Crome, in Paxton, Massachusetts, in 2003. After a year of gaining valuable experience, Leclair was offered an assistant trainer position with NRHA Three Million Dollar Rider, Million Dollar Owner, and Hall of Famer Tim McQuay in Tioga, Texas. Leclair went out on his own and established Leclair Performance Horses in 2007. Lecair currently has an NRHA LTE over $798,000. He also owns and showed stallion Electric Code (Jacs Electric Spark x Hot Coded Candy), which he piloted to earnings over $215,000.
Leclair's non pros are commonly seen at the top of the NRHA Top 10 standings, AQHA World Show standings, and North American Affiliate Championships. Patience, consistency, practice, and perseverance are the main components of his successful training program. Leclair realizes that every horse is unique, and he strives to create a training program to fit their abilities.
Youth Coach of the Year – Mark Guynn
Mark Guynn (© NRHA)Mark Guynn was born and raised in Manitou Springs, Colorado and graduated from Lamar Community College with an associate's degree in Horse Management and Training. He went on to complete an internship with AQHA breeder and judge Joe Taylor in Moab, Utah. Following his brief sojourn in Utah, Guynn returned to Colorado and started Guynn Training Center.
Guynn actively participates in the Rocky Mountain Quarter Horse Association and is deeply involved in their youth program. Guynn is a past president of the Rocky Mountain Reining Horse Association and remains an active member in his local affiliate. He holds AQHA, NRHA, and NRCHA judge's cards.
Of all his accomplishments, Guynn is most proud of his youth and non pro clients, many of whom have qualified for elite competition themselves. He's coached several AQHYA Honor Roll Champions in both reining and ranch riding, as well as AHQYA World and Reserve World Champions. Perhaps one of Guynn's biggest contributions to the sport of reining lies in his commitment to the Interscholastic Equestrian Association and the development of two successful teams in Colorado, beginning in 2012 with six riders. Guynn currently coaches two teams with a total of 30 riders, alongside professional horse trainers Jimmy Daurio, Nancy Nemmers, and Caylee Parrish.
Up-and-Coming Professional of the Year – Cade McCutcheon
Cade McCutcheon (© NRHA)At just 19 years old, Cade McCutcheon is the third generation of his family to become an NRHA Million Dollar Rider. Hailing from Aubrey, Texas, McCutcheon was virtually born on a reiner and learned how to stick with a horse when things got tough at just 6 years old. He debuted in the show pen at 7 years old and competed in the NRHA Non Pro Futurity by age ten. He's the son of NRHA Million Dollar Riders Tom and Mandy McCutcheon and the grandson of multi-million dollar rider Tim McQuay and NRHA Hall-of-Famer Collen McQuay.
McCutcheon became the youngest U.S. athlete to represent reining at the World Equestrian Games (WEG) on the 2018 U.S. Reining team. McCutcheon helped Team USA clinch the gold during WEG by marking a 229 on Custom Made Gun. The score remained untouched by fellow NRHA Professionals, solidifying McCutcheon's plan to join his teammates as an NRHA Professional the following year. He entered 2019 as a wild card on many fronts—one of those being as a literal wild-card entry in the inaugural Run for a Million and on The Last Cowboy, a reality-based television series featuring eight NRHA Professionals. McCutcheon named co-champion with Craig Schmersal at the inaugural Run for a Million He then went on to win three open levels of the NRHA Futurity, including the prestigious MS Diamonds Level 4 Open Finals, with Super Marioo, owned by Story Book Ranch.
For more information about the NRHA Professionals program or to find a professional in your area, visit nrha.com/professionals.
---
29. 1. 20 - WRWS/DQHA - Ein Hauch von "Hollywood" bei den Oldies der Woche.


Wir stellen Ihnen heute einen besonderen Hengst vor.
Lesen...
---
29. 1. 20 - WB - Quarter-Horse-Zucht in Europa: Schlichtungstreffen in Brüssel – gibt die DQHA nun den Anspruch auf das Ursprungszuchtbuch auf? mehr...
Niederlande: Ausschreibung/Nennung für die "AQHA/NQHA First Contest Show" vom 27. – 29. März in Grathem mehr...
Quarter-Horse-Sport: Ausschreibung/Nennung für die "AQHA Sun & Fun Show" in Alsfeld und die "Beginning Of The Year Show" in Memmingen mehr...
Stiftung Deutsche Sporthilfe: Reining beim 50. "Ball des Sports" am 1. Februar 2020 in Wiesbaden mehr...
Rechtsprechung: Marktpreis, Einsatzmöglichkeiten, Minderwert – was ist ein Pferd wert? mehr...
---
28. 1. 20 - WRWS/NRHA -
- "Shiners Voodoo Dr" Reaches Million Dollar Sire Milestone.


Oklahoma –
The newest addition to the National Reining Horse Association (NRHA) Million Dollar Sire list hails from Silver Spurs Equine–Oklahoma: Shiners Voodoo Dr. By NRHA Four Million Dollar Sire Shining Spark and out of Voodoo Chic, the 2007 palomino, fondly referred to as "Voodoo," earned more than $85,900 in NRHA Lifetime Earnings (LTE) during his show career.
"Shiners Voodoo Dr" Reaches Million Dollar Sire Milestone (© NRHA)Owner Michael Miola of Silver Spurs Equine, LLC, first laid on eyes on the stallion after he purchased Xtra Quarter Horses in 2017. Voodoo was one of three stallions Miola acquired in the purchase. For Miola, Voodoo's latest accomplishment isn't exactly surprising.
"I was extremely impressed with his demeanor," Miola said about meeting Voodoo. "One of the three things I look for in a breeding stallion is their demeanor."
This trait is followed by their work ethic in the show pen and attitude in the breeding shed. Voodoo continues to check all three boxes for Miola.
NRHA Professional Thiago Boechat trained and showed the stallion prior to Miola's purchase. The pair's most notable accomplishment was at the 2012 NRHA Derby where they were the Open Level(L) 4 Co-Reserve Champions. As a 3-year-old, Voodoo was the 2010 Tulsa Reining Classic L3–2 Open Champion in addition to making the Open L4 Finals at the NRHA Futurity. Miola admits Voodoo isn't known for his show career; the stallion shines brightest as a producer.
Xtra New Pal Voodoo, "Pal," is the only horse by the stallion Miola kept on the ranch. The winner of more than $81,800 in NRHA LTE, Pal transition to a career in team roping, proving the versatility of Voodoo's offspring.
During the 2019 NRHA Futurity, Voodoo's progeny earned more than $30,000 to push him across the million-dollar mark. Both Xtra Shiners Taboo (out of Xtra Suzies Step) and Magin Mann (out of Wimpys New Pal) walked away with checks after making the MS Diamonds TX Open L4 Finals. Also cashing checks at the NRHA Futurity were Xtra Handsome Shiner (out of Hermosa Wimpy), Xtra Voodoo Charm (out of Little Smart Wimpy), and Voodoo Brew (out of Reddy To Smokem).
Shiners Voodoo Dr's top-performing offspring include:
Xtra New Pal Voodoo (out of Wimpys New Pal, by Wimpys Little Step): $81,893 LTE;
Shiners Voodoo (out of BR China Rose, by Hollywood Dun It): $66,943 LTE;
Smart Voodoo Doctor (out of Smart As Sister, by Very Smart Remedy): $46,452 LTE;
Xtra Taris Voodoo (out of All That's Dun, by Hollywood Dun It): $41,479 LTE;
Call Me Mr Voodoo (out of ARC Sassy Snapper, by Snapper Call Bar): $40,454 LTE;
Xtra Voodoo Gun (out of Miss Silver Gun, by Gunner): $38,098 LTE;
Xtra Voodoo Doc (out of Call Me Miss Hickory, by Docs Hickory): $37,719 LTE;
Blonde Ambishen (out of Relaxin With A Bud, by Nic It In The Bud): $37,691 LTE;
Shiners Voodoo Juice (out of SLJ This Is My Juice, by Smart Like Juice): $35,033 LTE;
Xtra Black Magic (out of Always Steppin Smart, by Wimpys Little Step): $33,716 LTE.
---
27. 1. 20 - WRWS/DQHA - Termin & Tagesordnung der Mitgliederversammlung der DQHA-Regionalgruppe Ost 2020.


Mehr Informationen hier.
Lesen...
Informationsveranstaltung: Der Beruf des Pferdewirts.


Am 7. März 2020 in Eschede.
Lesen...
Jetzt Karten bestellen für den DQHA-Ball 2020 in Darmstadt!


Am 7. März 2020 steigt in Darmstadt der traditionelle DQHA Ball, bei dem wie in all den Jahren zuvor die besten Pferde, Reiter, Vorsteller und Züchter der vergangenen Saison 2019 geehrt werden. Darum laden wir unsere Mitglieder und alle Freunde…
Lesen...
---
27. 1. 20 - WB - Reining: Ausschreibung/Zeitplan für die "NRHA European Futurity" 2020 vom 23. – 28. März in Cremona (Italien) mehr...
Serie Oldies & Goldies (11): "Migthy Diablo" ist stolze 32 Jahre alt –- und man merkt ihr das Alter nicht an mehr...
DQHA-High-Point-Wertung: AQHA hat nun die Mitte-Futurity Alsfeld verarbeitet/Zehn Shows noch offen mehr...
Quarter-Horse-Sport: Ausschreibungen/Nennungen für das "AQHA Sinsheim Open" und das "AQHA Birkenhof Classic" online mehr…
---
Die Beiträge der vorangegangenen Wochen finden sich im WRWS-Monats-Archiv.